Leading filters distributor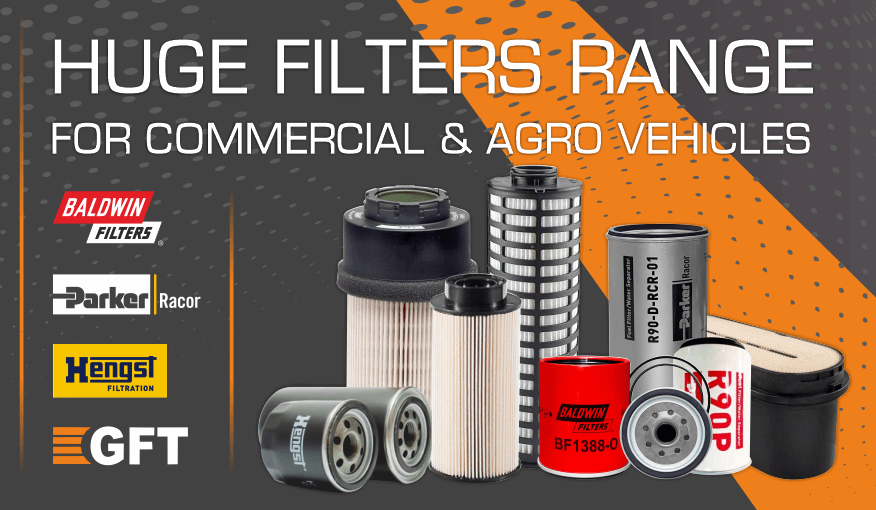 Wholesale and retail of oil, fuel, air, hydraulic, coolant, transmission filters produced by leading Europe and USA manufacturers:

Baldwin Filters
Baldwin Filters, a brand of Parker Engine Mobile Aftermarket Division (EMAM), is a global provider of filtration products and services.
Company delivers oil, fuel, air, hydraulic, coolant, cabin and transmission filters for various machinery – trucks, agricultural, forestry and specialized technique, specialized, naval and railroad transport, industrial engines and equipment. 
Learn more about "Baldwin Filters" – HERE
Manufacturers website: www.baldwinfilters.com

Racor
Parker Racor is a global leader in engine filtration technology. A part of Parker Hannifin Corporation.
Working in partnership with world-class automotive OEMs, Racor designs and manufactures first-fit equipment for many of the biggest names in truck and bus. And the identical engine filtration is available in the aftermarket, offering you products with exactly the same fit, form and class-leading performance as the original – and always 100% compliant with vehicle manufacturers' warranty conditions.
Manufacturers website: www.parker.com

Hengst
Always cleaner, smaller, lighter – that is what's required by modern engines. Hengst response to this involves integrated solutions that help make engines more durable, powerful and more energy efficient while enabling lower emissions – all this accompanied by the specified weight reduction in today's vehicles. As a leading provider of fluid management modules, crankcase ventilation systems as well as filter technology for oil, fuel, air and cabin filtration, Hengst assist our customers in achieving their objectives.
Manufacturers website: www.hengst.com
GFT
A wide range of filters including oil, fuel, air and hydraulic filters and natural gas filters for automobiles, commercial vehicles, construction machines and industrial uses.
A facility, which has an annual production capacity of 1.200.000 units, has started TSE standardization processes and now complies with the following standards:
For fuel filters TS 5395
For oil filters TS 7407
For air filters TS 932.
Manufacturers  website: www.gftfilter.com
Also we are first-hand dealers of the following European filter manufacturers:



---
To get more information about filters CONTACT US:
by phone +37061676200
by email – PRESS TO WRITE